What is a floating license?
A floating license is also called a network license because the license can be shared among people on a network.
In this case, it means that when your company has five licenses, five people can use Drew at the same time.
Actually, these people do not need to be on the same network. You just need an internet connection.
Check out on startup, check in on shutdown
Drew looks for an available license when it starts up. If a license is available, Drew will check one out for you.
If no license is available, you can see who is using a license so you have the option of asking them to check in the license.
How to disable checking out a license on startup
In Drew 2.7 we added a setting for this.
Open the license window, then uncheck this checkbox:
How can I manually check in a license?
You can open the license window in two ways. The first is via the Tools menu > Drew > License Key:
You can also use the button with the License Key icon in the Drew task pane.
The license manager window looks something like this: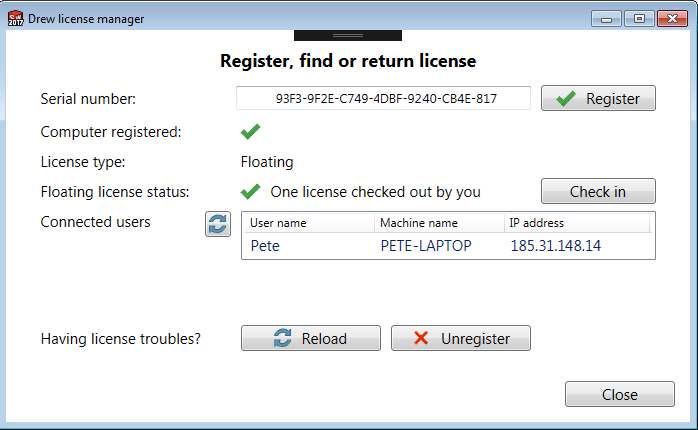 Here you can click Check in so a colleague can use your license.
What happens when I disable the add-in?
If you disable the Drew add-in within SOLIDWORKS, Drew will not start and will not try to check out a license.
When you have checked out a license and disable Drew, the license will be checked in like normal.
What happens when SOLIDWORKS crashes?
As you know, SOLIDWORKS regularly crashes.
We have also found out that it is very easy to crash SOLIDWORKS via our code. That is why we became extra careful while writing code and why we run even more tests before releasing an update.
When SOLIDWORKS crashes, Drew does not have the time to shut down properly or check in your license.
Fortunately, our license server makes your license available again if it hasn't heard from your PC for 10 minutes. During normal use, Drew tells the license server every now and then that it is using the license.
If you start SOLIDWORKS again immediately after a crash, you will be able to reuse your checked-out license.